ongoing :
Invitations coming soon for : 'Play, Dare and Shoot!' a series of experimental workshops/laboratories.
Thanks to DIS-TANZ-SOLO, the support program for solo freelance dance artists, I will conduct experiments to explore performing arts as a training for 'daring' (Wagemut). The goal being to stimulate the desire to dare being ourselves, to dare to speak up or dance in public, to dare to commit to our ideas, dare to say 'i love you', dare meet the unknown as a remedy against individualism and social confinement.
I will formulate invitations to participation around 3 ensemble named :
'Playing the Meta-Game'
'Close Encounters of the Normal Kind'
'Boys playing war'
---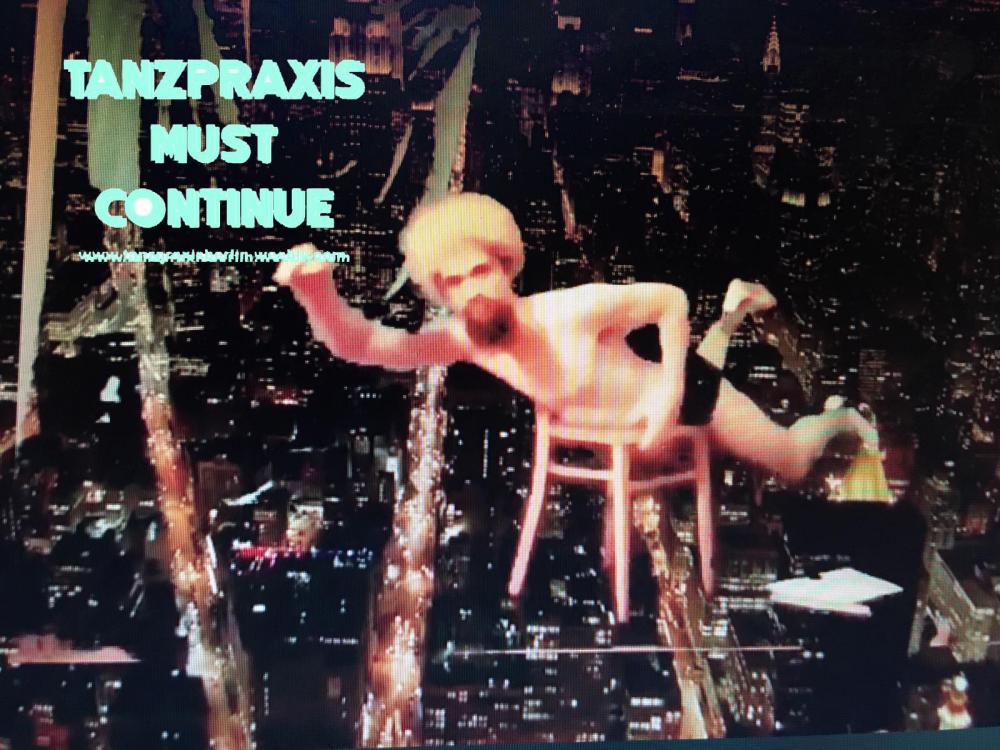 °tanzpraxisberlin.weebly.com°
°tanzpraxis.tumblr.com°
---
Past Activites :
. 24 April 2021 .
The meta-game, workshop for Co.Lab festival, a game where the first rule is to invent the rules, is a two hours experiment dedicated to invent and test a game that creates itself while the players play it.
https://colabfestival.wordpress.com/
. February 2021 .
One week of daily window experimentations. A glitch in the routine of Jahnstrasse passers-by.
With and By : Akseli Aittomäki, Katja Vaghi, Laura Hagemann, Dizzy Ella, Camille Chapon.
. 08 December 2020 .
Cabaret Fludax #17, we performed "100 morts théatrale + jean-luc godard" with the Steini Collective (Deva Schubert, Juan Felipe, Laura Hagemann).
°fludax°
. 19.10.- 23.10. & 31.10.-07.11.2020 .
Residency with Natsuko Tezuka in Tanzfabrik Berlin. The starting point of this collaboration is Natsuko Tezukas sixth piece in series of her works called Anatomical Experiment.
°tanzfabrik-berlin.de°
. 18 till 24 Septmeber .
With Sophie Brunner, hosting the Q&A of the 2020 Tanztreffen der Jugend, Bundeswettbewerbe Berliner Festspiele.
. Mars till September 2020 .
Solo dance Classes online or on Templehofer Feld with Gidre and Tycho, Balboa Swing Club.
. 17 May 2020 .
Jofe D'mahl hosted the Virtual Party and performed his best grooves on Backroom Beat.
. 15 April 2020 .
Performing "Superformeur" for Fludax #16, Live streamed on Facebook..
. 02 February 2020 .
Performing "Jamais (and) Ambience so nennt", improvised duet with the the drummer Aaron Snyder at Urbanraum.
. 01 December 2019 .
Performing with the drummer Aaron Snyder, Duet improvisation.
for "Common Ground" initiated by Ingo Reulecke at Tanzfabrik Kreuzberg.
. August 2019 .
Clown workshop with Alan Fairbairn at Le Samovar.
. 12 to 14 Jully 2019 .
Performing for "Esprit", choreographed by Lyllie Rouvière with the collective Suddenly, at Open Spaces Tanzfabrik.
. 30 May to 02 June 2019 .
Teaching "Groove Morning" for Performing Art Festival Campus' students in Alte Münze, Berlin.
. 7 May 2019 .
Teaching solo groove and Balboa with Giedre Paplaityte, Balboa Swing Club at Lovelite, Berlin.
. 4 May 2019 .
Shop window dance performance for Cabaret Fludax at 12900m2, Marseille.
. 28 April 2019 .
Teaching basic blues dance at Kallasch& with freaking amazing Giedre Paplaityte !
. 7 April 2019 .
Teaching and DJing with Aabshaar Wakhloo for Groovlyhood workshop and party, a conbination of Bollyhood, Groove and solo Jazz improvisations.
. 03 Mars 2019 .
Jofe D'mahl hosting Bellmer's first Cabaret during Berlin Balboa Weekend, featuring Dizzy Ella and Die Schneidig geschmeidige Schwimmgeschwister.
. 20 February 2019 .
Teaching Balboa with Giedre Paplaityte at Balboa Swing Club, Rot Bart.
. 09 and 10 February 2019 .
Performing a totally reworked "Kopfschmuck" during Nah Dran at Ada Studio
. 23 November 2018 .
Performing my dance solo "Kopfschmuck" for "THE WALL SERIES VOL.4!
At PAUL studio Berlin.
. 27 August 2018 .
Performing for "A piece you remember to tell - A piece you tell to remember"
from Silke Bake and Peter Stamer. Tanznacht Berlin.
. 24 to 26 August, 2018 .
Teaching solo Impro Jazz for "Balboa am Badesee" with the Balboa Swing Club.
. 01 August 2018 .
Curating, directing, hosting and performing "CARTE BLANCHE n°6 !" Jofe D'mahl's Unstoppable Cabaret
In Ausufern festival, Berlin.
. 30 July 2018 .
"Live aus dem Babylon", Interview for Radioeins with Jofe D'mahl and Peter Stamer. Jofe will present Carte Blanche n°6 and AUSUFERN.
https://www.radioeins.de/programm/studios/babylon.html
. 14 to 17 July 2018 .
Dancing for Lina Gomez : "A Passo di Mulo"
"Open Spaces", Tanzfabrik, Berlin.
. 01 July 2018 .
Teaching Swing Dance basic for Ausufern, Uferstudios Berlin.
. 10 April 2018 .
Performing in "Cabaret Fludax" ! in "Humain trop humain, Centre Dramatique National de Montpellier" with Maël Gagnieux, Tom Bouët, Charlotte Caraglui, Laura Samé, Lola Bréard, Emma Tricard and Bill Van Cutten.
.28 February 2018.
"Improvised Encounter" between Biennale participants and students of the Jazz Institut Berlin.
Organised and Orchestrated for «Biennale Tanzausbildung 2018», Uferstudios, Berlin.
. 12 to 15 February 2018 .
"Exercice Commun", Performing for Emma Tricard at Master exerce, Centre Chorégraphique National de Montpellier.
. 24 & 25 January 2018 .
Curating, directing, hosting and performing "Carte Blanche n°5", Acud Theater, Berlin.
. 27 & 28 November 2017 .
Performing for "laborlaboratory" by Felix Ofosu Dompreh, Uferstudios, Berlin.
. 10 Octobre 2017 .
Performing "Bob George", with Patrick Rump at Hzt-Berlin, Uferstudios.
. 07 July 2017 .
Costume painting Intervention " Vorbereitung für Weltraum n°3 " for Megabock vernissage in Uferhallen, Berlin.
. 01 & 02 June 2017 .
Performing for "Chão Vazado", a research with Lina Gomez in Tanzfabrik "Time to Meet", Uferstudios, Berlin.
. 22 April 2017 .
Curating, directing, hosing and performing "Carte Blanche n°3", Open stage during "Suddenly", student festival in Hzt-Berlin.
. 25 Mars 2017 .
Open rehearsal at Uferstudios, the trio Eternuer show "Un Lac" after a week of research in Hzt-Berlin.
.02 & 03 July 2016.
Performing "Banana peels are carefully placed", choreographed and performed with Julek Kreutzer in Ada Studio, Uferstudios, Berlin.
. 24 & 25 June 2016 .
Performing for "STAUB [Poeire Surda]", choreographed by Lina Gómez in Hzt-Berlin, Uferstudios.
. 23 April 2016 .
Curating, directing, hosting and performing "Carte Blanche n°2", Open Stage during "It's Never Whatever (...)" student festival, in Hzt-Berlin.
. 30 & 31 October 2015 .
Performing for «Devaneios sobre o desaparecimento» (Träumerei des Verschwindens), choreographed by Lina Gómez in Hzt-Berlin, Uferstudios.
. 01 July 2015 .
Showing the solo "Operation under fake flag" for Camping Cnd 2015 in "Théatre du Fils de l'eau", Paris.